Om het hele kluwen aan leidingen en apparaten op een site in kaart te brengen en inspectie hiervan beheersbaar te maken, stelt METALogic haar RBI aanpak voor. Door een grondige studie van mogelijke faalmechanismen door corrosie-ingenieurs, het bundelen van leidingen met dezelfde proces-medium condities, en het koppelen met het gevolg van falen, kan een systeem opgezet worden waar zeer gericht kan geïnspecteerd worden. METALogic staat de klant bij met haar expertise in corrosie, inspectie en inspectiemethoden.
Voordeel van het implementeren van een RBI aanpak:
Focus op hoog-risico leidingen / apparaten
Beperken van inspecties door clustering en keuze van referentieleidingen
Gebruik van de meest geschikte inspectietechnieken voor het optredend faalmechanisme
Antwoord op vraag van de overheid naar beheersing risico's op leidingen / apparaten

In kaart brengen leidingpakket
Met als basis P&ID's en PFD wordt elke leiding geïdentificeerd met de beschikbare gegevens zoals diameter, materiaal, oorspronkelijke dikte, medium, inspectiehistoriek e.d.
Uitvoeren corrosiestudie leidingen door loops
Vervolgens wordt via het opzetten van corrosieloops en het clusteren van leidingen met gelijklopende eigenschappen de corrosiestudie voorbereid. Voor elke cluster in elke corrosieloop wordt de corrosiestudie uitgevoerd. Deze studie bepaalt welke degradatiefenomenen kunnen voorkomen voor welke leidingen. Daarbij wordt ook een degradatiesnelheid of de kans op falen ingeschat.
Implementeren van risico op falen
Voor elke leiding of elke cluster dient ook een gevolg van falen gedefinieerd te worden. Het inschatten van dit gevolg gebeurt enerzijds door het gevaar verbonden aan het product zelf, maar ook het belang van de leiding in het proces zelf (economische waarde). Het gevolg van falen wordt in principe door de klant zelf gestuurd.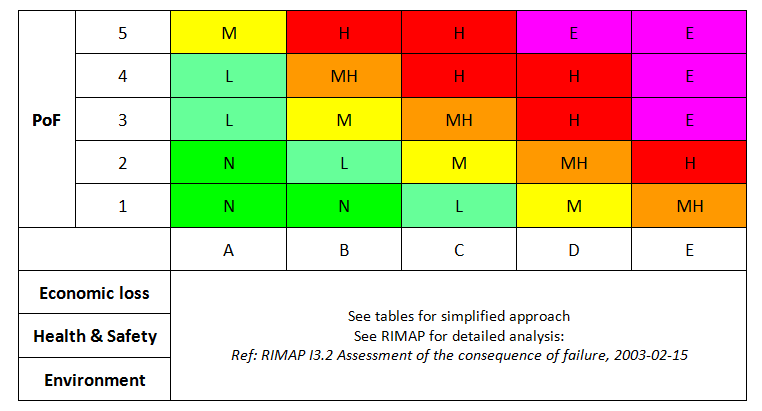 Genereren inspectieplan met periodiciteiten
Afhankelijk van zijn plaats in de risicomatrix wordt voor elk leidingpakket al dan niet een inspectieplan opgesteld met een aantal te onderzoeken locaties en een aantal mogelijke inspectietechnieken. Deze inspecties kunnen al dan niet door METALogic uitgevoerd worden.